* 1977 in The Hague, lives and works in Amsterdam, NL, and Berlin
Anne de Vries explores the limits of human agency and the relationship between technology and mass experience. In the works created for the 9th Berlin Biennale he is interested in using the format of Hardstyle electronic music as a means of presenting texts to an audience and has created a large-scale diorama of a Hardstyle show, including a miniature stage with specifically designed VJ/light effects, DJ sets, and promotional posters as well as the infrastructure of an outdoor festival. From a fly-over perspective the viewer looks down on thronging crowds within a scenario orchestrated to push the audience into states of sensory overload and generate alternative experience—including light shows, visuals of masks and mutants, manipulated voices, and alien landscapes. For the VJ and DJ sets de Vries has combined original Hardstyle samples with voice-overs sourced from contemporary philosophical texts that share an affinity for reoccurring themes in this genre of electronic dance music: thinking beyond human scale, rejecting an essentialist view of nature, and embracing the ephemeral.
Critical Mass: Pure Immanence, 2015
Full HD video, color, sound, loop, 14′
Camera, video edit, lyrics, and musical arrangement Anne de Vries, Q-Dance
Music Phill Niblock, Thomas Ankersmit, Pye Corner Audio, Incredible String Band, Nils Frahm, Aqua Dome and others
Courtesy Anne de Vries
With the support of Mondriaan Fund
Thanks to Q-Dance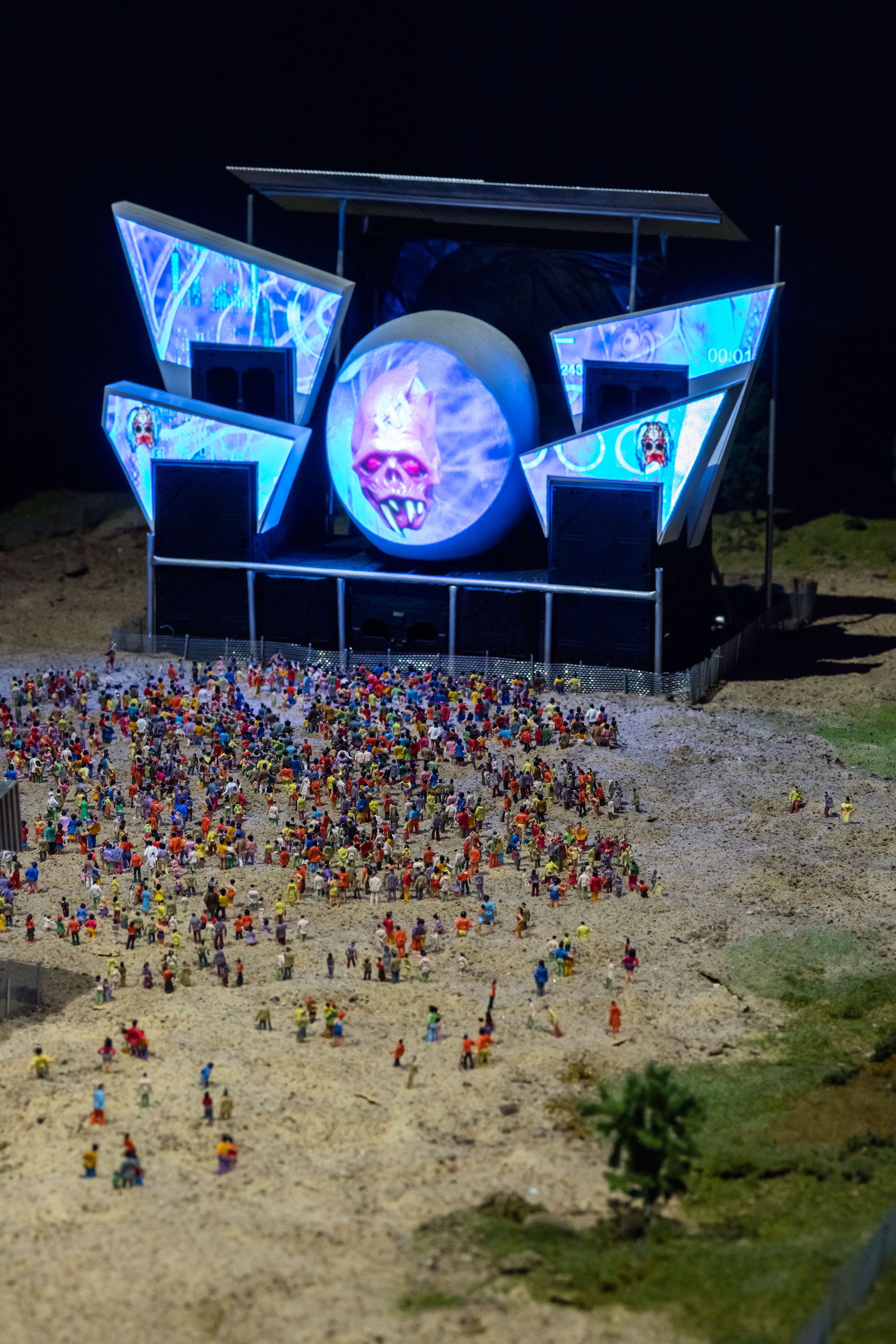 Installation view of Oblivion, 2016, courtesy Anne de Vries, photo: Timo Ohler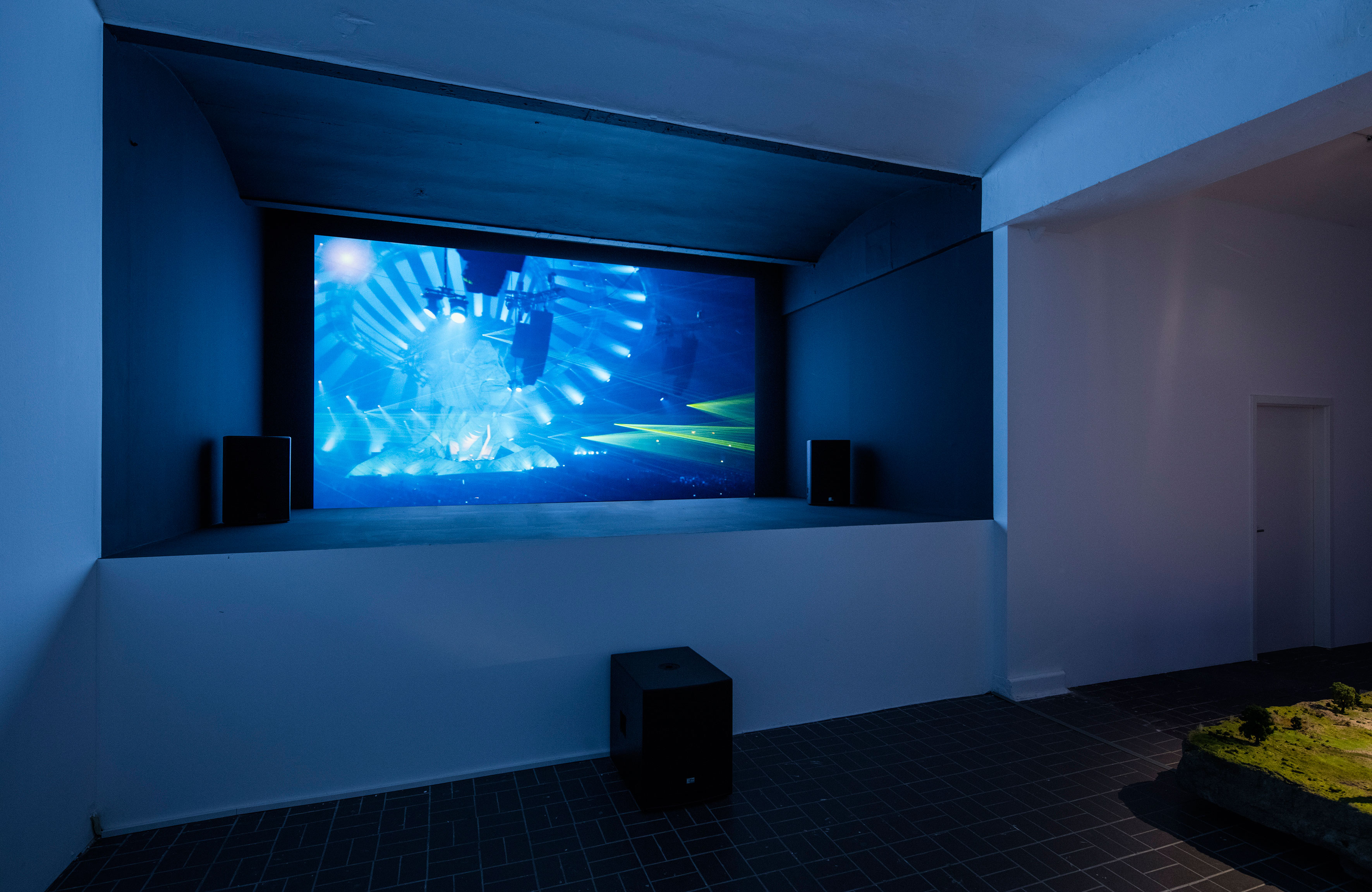 Installation view of Critical Mass: Pure Immanence, 2015, courtesy Anne de Vries, photo: Timo Ohler
Oblivion, 2016
Diorama in a scale of 1:87; sand, stones, wood, plastic, aluminum, paint, PVA, styrofoam, miniature advertisement campaign, miniature graffiti, miniature truss system, miniature LED projector, miniature Hi-Fi system
VJ- and DJ-Set
1) EARTH MAGNITUDE, based on "Thinking in Earth Magnitude" by Timothy Morton
2) TOTALITY, based on "In the Flow" by Boris Groys
3) XF ENTERTAINMENT, based on "XenoFeminism Manifesto" by Laboria Cuboniks
4) ACCELERATOR, based on "Accelerate Manifesto for an Accelerationist Politics" by Nick Srnicek and Alex Williams
Includes sounds by Pandora – Code Black, magic – B-Front & Frontliner, Save your world – Phuture Noize, Redeeming light – B-Front, Struggle for Existence – Ran-D & Adaro, Metropolis of Masscare – Miss K8, Tonight – Wildstylez & Noisecontrollers, Crank – Coone Ft D-Block & S Te Fan, Stay Alive – Wasted Penguinz, Activated – Wasted_Penguinz & Code Black, Nirvana of Noise – Art of Fighters, Fade to Black – Max Enforcer ft, The Rush, On the go – Max Enforcer & Frontliner, Fight for Survival – Frequencerz & In-Phase, Within – Wasted_Penguinz, Life beyond Earth – Project One, Illumination – Brennan Heart, Coone – Qlimax, Masters of Hardcore – Raiders of the Rampage, Lorenzo Senni, Aqua Dome.
VJ Visuals Anne de Vries in collaboration with Lucas Gutierrez
DJ Effects Anne de Vries in collaboration with Aqua Dome und and Lorenzo Senni
Courtesy Anne de Vries
Comissioned and coproduced by Berlin Biennale for Contemporary Art
With the support of Mondriaan Fund
Thanks to Q-Dance and Masters of Hardcore